At the end of January 2020, European cultural journal editors met with donor organization representatives1 in Brussels. The meeting focused on the changing role of journals and magazines in a political environment of anti-democratic tendencies, disinformation and a joint European public sphere still only in the making.
Coronavirus was believed to have been contained in Wuhan – these were the 'before times'. And, although what has since become a crisis distorts notions of time, the discussion now appears to have been preparation for an unprecedented challenge to journals.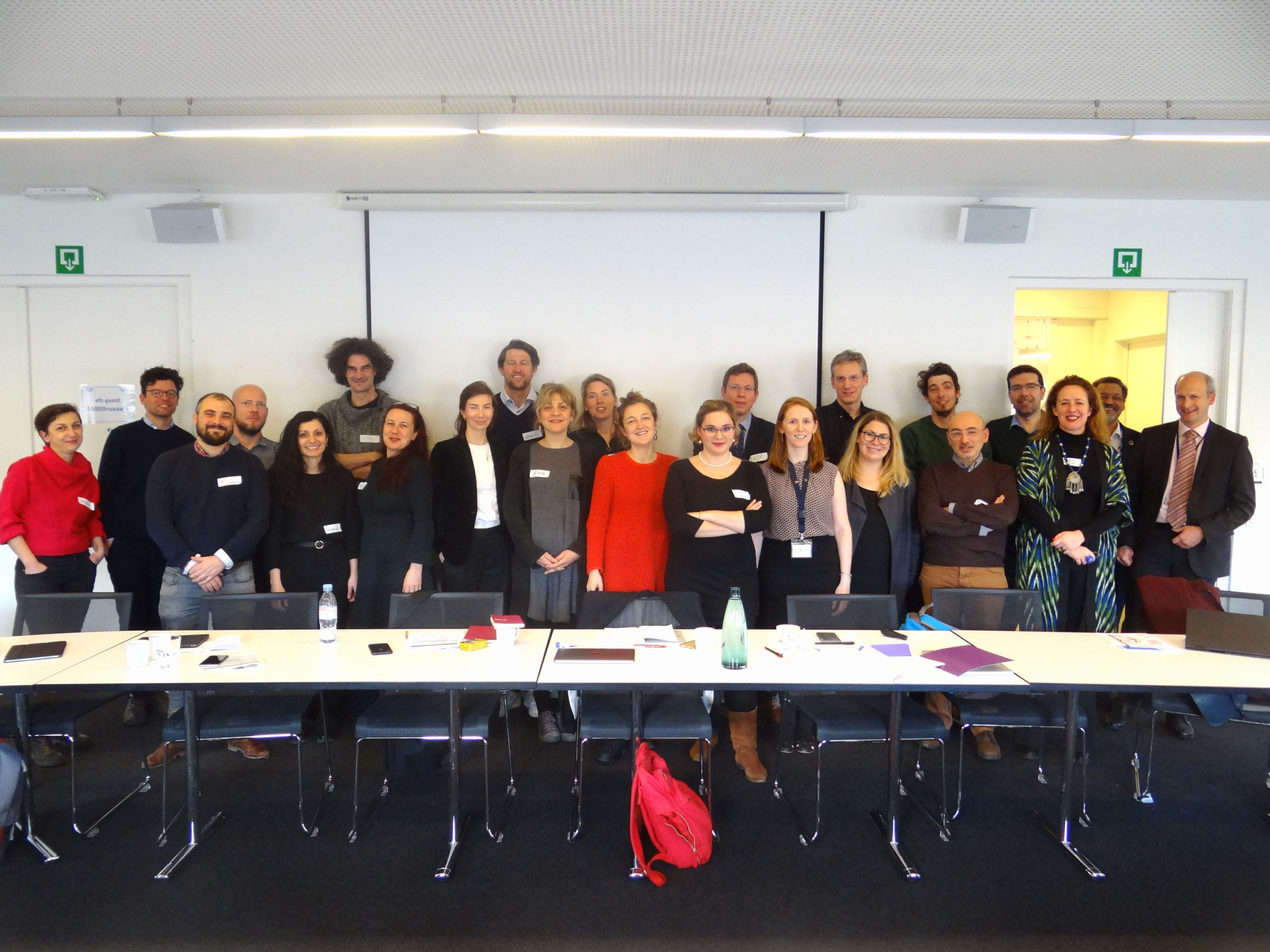 The integrity we cherish
Bringing sponsors and beneficiaries together contrasts very different perspectives. As an editor, I anticipate that private foundations and the EU will point myself and colleagues to new possibilities, and contribute money and other utilities to journals whilst still letting us keep the integrity we cherish. This might be asking a lot, but it could be the only way to produce what funders seem to want: independent views, reflection and truth.
The event focused on their current interests, including the spread of nationalism and growing trends of disinformation, the potential disintegration of the EU, the need for a joint European public sphere and, of course, the ongoing media crisis. Indeed, the event was organized to support cultural journals on each of these issues, which also require the attention of those who shape European journalism and media-related policies, including those for programmes and grants.
A peculiar place to start
Strangely enough, Brussels is not one of the cities where I have previously encountered my Eurozine colleagues. Before this meeting, I had attended events in Gdansk (Poland), Conversano (Italy), Tartu (Estonia), Vienna (Austria) and Berlin (Germany). But this occasion was distinct: Brussels could serve as the European centre it is often claimed to be, the place where European cultural and media policies are made, and providing, on this occasion, an impressive, downtown location dedicated to foundations.
Network met network. Partners from both Eurozine and the European Foundation Centre discussed issues candidly and intently, face-to-face, something which today seems as impossible as the ample handshaking we practised that day.
Understanding a Zeitgeist
The work, concerns and messages of cultural journals are always defined by their times. A search in the Swedish digital media archive, which catalogues the majority of Swedish media content, reveals that the use of i dessa tider (in these times) skyrocketed in March 2020.2 This may be fact, but what 'these times' really mean is something for historians and cultural journals to contemplate over a longer period.
It could be argued that a major role of cultural journals is to give the 'culture of reflection' place and form. Journals are certainly an outlet for the longer essay, analysis and literary criticism, all generously defined. They not only ensure the quality of texts but also frame them within a meaningful context.
Each issue of a journal bears the imprint of its times. Certain issues are guest edited by groups of artists or other collectives and communities. Thus, journals provide a communications infrastructure for different sectors of society and their needs. For a long time, journals have also been the place for new ideas to surface and be expressed. They provide an outlet for innovation and representation beyond mainstream discourses.
Insight and imperative
As an editor, I have resisted what I sometimes fear to be too much conflation, even confusion, between cultural journals and news media. When we speak about disinformation and fake news as challenges to cultural journals, I repeat to myself, in defence and frustration, that "we don't do information". And we sure don't do disinformation. To me, this is both an insight and an imperative.
That being said, when I turn, for example, to the Eurozine focal point on disinformation, I find insights and broad perspectives – a special blend of discussions belonging to a Europeanized or even globalized discourse that still stems from specific, national cultural spheres.
There might be good reason to steer relatively clear of reporting regular news updates, but we are nevertheless involved in public discourse, often bridging academic knowledge and theory with broad, politically charged or artistic contemporary conversations. This places journals at a critical point within the media sphere. And we need public bodies to protect and support the integrity of this aspect of the media.
Exhausted landscapes
Around the table in Brussels, we discussed what we do and the details of our situations. The 2008 financial crisis and austerity measures have impacted tectonic changes to the media sector evident within its new-level digitalization, and financial and political difficulties. We considered a range of issues: how to cope with scarcity; how much work is unpaid; how we often do not lose income from advertising anymore, as it has already been lacking for a while.
There was diversity around the table. From the northwestern European perspective, we know that our political situation has been far easier than for our Eastern European colleagues, from content interventions to financial support.
In Romania, for instance, corporate social responsibility is reported to be an important source of funds, motivated in part by diminishing public support for cultural journalism and publishing. German, Norwegian and Swedish journals also reported their concerns, as austerity measures have reduced public financial support for culture. Additionally, the sector has become a political battlefield with partisan politics becoming more vested in a cultural frame when interpreting societal conflicts. The attention garnered from these emerging culture wars is not necessarily welcome. Fears that non-commercial, independent – and vulnerable – journals may lose their funding are growing.
There isn't an ultimate, new business model for the genre. A wide range of coping strategies are employed to navigate the post-truth media landscapes of roaring headlines and extreme ownership centralization, where tech giants are the only ones really turning a profit.
Project pain
The dreaded term 'projectification' describes a reality where both foundation and public funding sources are being shaped in the short-term and oriented toward visible outputs instead of sustaining whole operations. In some cases, this approach might support developments that benefit both the donor, the journal and its readership. But, more often than not, this logic leads to beneficiaries adjusting their publishing ideas to fit the short-term financing expectations of add-on activities. This does not provide for secure operations that can sustain their infrastructure, and maintain competence and creativity.
In a projectified world, it appears easier to find new support for co-operation than for operation. And this is where the European level becomes even more relevant – but also problematic – both when working with EU funds and private foundation support.
Eurozine is one example of an actual pooling of resources. Collaborative publishing, translations and an exchange of content are at its core. But for many journals in a number of countries, fundraising is much more difficult, specifically because they act in a national or regional context where they need to stand their ground. A text or thematic issue might be a project, but journals themselves are much more robust structures. Journals also often need question whether their outreach is sufficient. Even philanthropists want numbers, giving journals an unfair test: reader numbers are often measured against mainstream outlets even though they operate in completely different fields. Cultural journals also often have to cover the traditional blind spots of legacy media and provide space for innovation with uncharted audiences. A journal's main aim is not to directly influence the masses but to amplify voices and approaches.
In another world now
The situation has changed dramatically since we discussed our situation in Brussels. This new reality is the most unstable many have ever lived through; even businesses and corporations are having a difficult time. The support that has dripped out of the corporate sector for culture may therefore dry up totally or at least turn its attention to different fields. The low interest rate economy has probably long complicated the financial situation of charity foundations, but today's stasis of economies and the movement of people is having all the more impact. Since our January meeting, borders have been closed throughout Europe and around the world, and everyday lives have changed dramatically. Public events are out of the question, unless digital.
During this stasis, the media has accelerated its reporting of deaths and healthcare capacities. Endless press conferences have become the norm. Of course, we need this flow. We need the facts. But we also still need long reads, those critical reflections and unruly ideas.
Journals within the Eurozine network will remain a rather diverse community, providing places for avant-garde ideas, reflection and hindsight rather than a narrowly defined outlet for instantaneous, seemingly objective facts. But cultural publishing, in times of crises and an era of populism, shows us what something truly non-populist can look like.
Will those supporters devoted to human rights, fighting deadly diseases and working against climate change, diverse as they may be, also help sustain a culture of reflection? Cultural journals maintain a public sphere outside of the mainstream without instant global outreach. Who will make it their priority to uphold this genre beyond supporting just a few more projects? Maybe we will have to talk a bit more.
1

Present were professionals in spheres from private philanthropy to EU funding, all partners of the European Foundation Centre.
2

Source: Mmediearkivet.se, 2020. In January, the phrase i dessa tider (in these times) was mentioned 286 times. In March, the same phrase is used 4,464 times.